John Law Quartet, featuring Tim Garland The Moment Cornucopia CRCD06, April 2000
John Law, piano; Tim Garland, sop./tenor saxophones; Tim Wells, bass; Dave Wickins, drums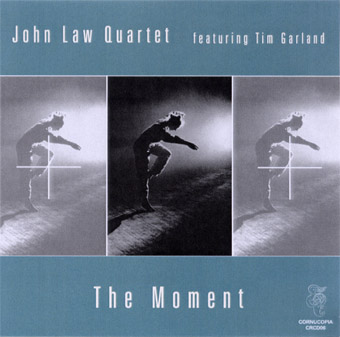 This polished, melodic and technically assured album by English pianist John Law comes as a pleasant surprise, especially to those who had him figured as a Cecil Taylor disciple. Taylor, once the most controversial figure in jazz, is the free-improv pianist who outraged critics with a no-holds-barred approach that permitted the liberal use of fists and elbows.
The classically trained Law, however, has seen the light. There's nothing crash-bash about this sensitive session, which he describes as 'a fusion of jazz with a classical sensibility.' His inspiration, he says, was an Italian pianist, Antonio Zambrini, whose trio he heard when both were playing at a festival in Clusone. To my ears, Zambrini himself must have been influenced by Michel Petrucciani, the tiny French virtuoso whose genius impressed the whole jazz world. You can hear Petrucciani's tough yet graceful touches in Law's themes, and the ensemble playing, with Tim Wells and Dave Wickins, reflects the insightful standards established by Keith Jarrett's trios. Guest saxophonist Tim Garland is the ideal frontman to make the group a quartet for three of the nine tracks. You won't find it in the shops yet, but Cornucopia's website (www.cornucopiarecordings.co.uk) offers buyers access to a worthy product by a seriously talented homegrown player.

Jack Massarik London Evening Standard February 2002
---
John Law Quartet, featuring Tim Garland The Moment Cornucopia CRCD06, April 2000
John Law, piano; Tim Garland, sop./ tenor saxophones; Tim Wells, bass; Dave Wickins, drums

You might be surprised by the gently swinging, lightly embroidered sound of the opening track here, a dedication to Italian pianist/composer Antonio Zambrini, whom the English pianist John Law credits with helping to change his jazz perspective in 1999. The track's lyrical, Chick Corea feel is a fair distance from the more angular mix of Thelonious Monk, classical music and free improvisation that marked out this this thoughtfully original musician through the 1990's. On this set, a more conventionally swinging acoustic trio, with saxophonist Tim Garland on three tracks, Law is charting his shift "to something a little more like a jazz pianist". Apart from the Corea touches, there are visits to a kind of Mehldau-ish jazz/classical territory on the lightly trickling "Remembering When", train-rhythm pounding like early Abdullah Ibrahim on "Snakes And Adders", and even some Horace Silver-like gospelly playing. The rather sombre and reflective "Isolde" starts as romantically preoccupied solo piano before a faintly doodly section for Garland's soprano sax, but the title track (dedicated to Kenny Wheeler) stands out. It is a rolling conversation between Law and Garland that develops with a lovely, gentle swing. It confirms Law's ability to sound like his own man, whether he chooses to get closer to the mainstream or not.

John Fordham The Guardian February 2002