JOHN LAW'S EXTREMELY QUARTET HAT ART CD 6199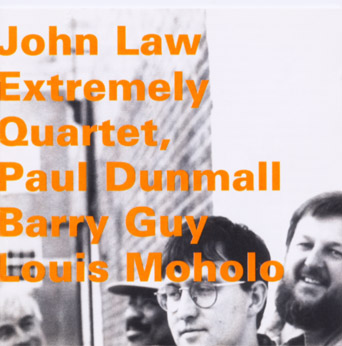 The Law date is no less impressive. The feeling is loose compared to By Confusion, and the classic Taylor group is often evoked in terms of pace and development on the first three tracks. Paul Dunmall knows his tenor history but isn't daunted by it. You can hear echoes of Evan Parker, Dewey Redman, Trane, Ayler and Warne Marsh if you listen that way, or you can just hear him, a worthy inheritor of that particularly proud tradition. Guy and Moholo are of course masters who contribute enormously to this outstanding date. The duos - Law/Guy and Dunmall/Moholo - are revelations and the final quartet defies description. It would take a lot more space than we have to even try, so I'll cut to the chase.

I am thinking of the reasons people have for making music and remembering something the great French writer, Jean Giono, once said about there being traditions that spring from the need to live and traditions that spring from the need to seem. This music lives because it needed to be played. It should be heard, too.

Duck Baker Jazztimes USA August 1997