The Art of Sound Volume 1
John Law, Sam Burgess, Asaf Sirkis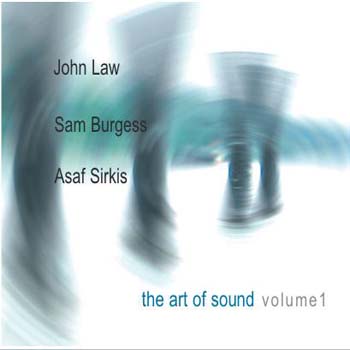 Hearing John Law's trio had me paying rapt attention to every bar, every nuance in a way I don't remember since listening for 30 years. One to watch out for in 2008.

Nod Knowles chief executive, Bath Festivals and president of Europe Jazz Network, Jazzwise January 2007
---

* * * *
Intricate, intimate and lovely...a masterclass in lyricism, and a delightful one at that.

Tom Barlow, Jazzwise September 2007
---

* * * *
This British piano virtuoso John Law runs a sublime, somewhat Brad Mehldau-inspired trio. John Law introduced this fine trio last November, and you could have heard a pin drop when they played the Vortex. Law is steeped in both classical music and jazz, and it may not be coincidental that this first set of a trio series has a title link to American jazz/classical piano star Brad Mehldau's Art of the Trio sequence. Like Mehldau, Law plays boldly independent lines in each hand, likes hooks that slowly evolve over subtle harmony changes, is captivating at low volumes and surefooted on swing. For a free-jazz and contemporary-classical explorer, this set is an explicit shift toward accessible tunes. But Law's spontaneous virtuosity and the skills of his partners offer many options. As well as being a formidable thematic improviser, whose phrasing constantly opens up new twists, Law writes beautiful romantic ballads (check Look Into My Eyes, or Song). And, together with bassist Sam Burgess and thrilling drummer Asaf Sirkis, he hops themes and time signatures without blinking. If anything can make Law's powers apparent to a wider public, this should.

John Fordham, The Guardian August 24, 2007
---

British pianist John Law played London's Vortex in early November, with bassist Sam Burgess and drummer Asaf Sirkis completing a brilliant new trio. Law can hush a busy room with barely-audible meditations, or electrify it with a headlong percussiveness - and on this gig, he and his attentive partners did both. Slow unaccompanied pieces built on gently-lapping chords over hypnotically-tapped single notes turned to bumpily Monkish melodies over repeating vamps and soft malletwork, snakily arhythmic basslines and abstract drum-rattles ushered in Law's elliptical originals. As if demonstrating the group's empathy with the room, Sirkis eventually began playing patterns on the roof-pillar next to his kit.

A sublime trio, it's a band heading for great things.

John Fordham, Jazz UK 2007
---

The gifted British pianist John Law held the Vortex in awe, with a performance that emphasised subtle lyricism and probing swing while reworking the traditional materials of a jazz piano trio.

John Fordham, The Guardian 2006
---

Pianist John Law has been a world-class improviser at the sharper end of British jazz for years, but this new trio immediately puts him into a whole new category: as melodic, accessible and catchy as anyone in the crowded piano trio sector. Over 10 original tunes, Law manages to combine the best elements of the classically influenced northern European jazz tradition with hard-swinging, intensely textured solos. Keith Jarrett is an obvious point of reference, with Burgess on double bass and Sirkis on drums grounding Law's airy aesthetic like Peacock and DeJohnette. One of the jazz albums of the year!

Phil Johnson, Independent on Sunday 2007