John Law Quartet Abacus hatOLOGY 567 1.5.2000
John Law, piano; Jon Lloyd, alto/soprano; Tim Wells, bass; Gerry Hemingway, drums.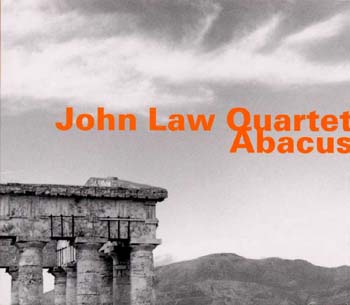 For North Americans, whose familiarity with pianist John Law is primarily, if not exclusively based on the riveting, freely improvised music of his duo with Louis Moholo and Extremely Quartet, Abacus is a minor revelation. Based loosely, but not too loosely on a baroque suite, this "Partita for piano, saxophone, bass and drums" contains a profusion of compositional ideas that meld the flowing cerebral dance of baroque music and the brainy heat of 60's advanced jazz. Law's classical chops are tapped more than in the aforementioned settings, as he hands in several statements that place him closer on a stylistic spectrum to a neo-classicist like Anthony Davis than a maverick like Cecil Taylor. Perhaps most importantly, Law has devised an intriguing ensemble sound for ABACUS (the quartet's name is spelled in caps, while the composition uses only an initial cap) that triggers wildly unlikely associations (imagine a Venn diagram intersecting Dave Brubeck and Greg Osby) in an ultimately vain effort to pigeonhole the music.
Law's knowledge of baroque suite conventions proves to be substantial, making both his adherence to and departures from the form equally pungent. He deftly collects and recasts materials from various sections of the suite ­ like the kernels appropriated from "Burlesque", stripped of their jaunty veneer - to create a viable "Ouverture". Additionally, Law uses the overture to distil the suite's overall brain- and feet-teasing tone, using phrases teeming with capering rhythms and clever cadences. Not only does Law have it right with the slow, dignified triple metre on "Sarabande," but the wispy Spanish tinge as well, as he spins a very seductive theme. And the brisk "Gigue" has the telltale compound metre and fugal writing of the French approach favoured by Bach. Subsequently, when Law strays, as is the case with "Courante," whose running figures and shifting rhythmic feel provide little more than a fig leaf's cover, it registers as well-earned licence.
Law's ensemble meets the varied demands of the suite and substantially shapes the work through their improvisations. Jon Lloyd's lean sound is well-suited for the ensembles; his solos have less of the "unmistakable British sound" Brian Morton identified on Lloyd's By Confusion (hatART, 1996) and are occasionally spiced with M-Basey cool. Tim Wells and Gerry Hemingway prove to be a highly complimentary and provocative team. In the Jarrettish trio section of "Courante" they adroitly let string and cymbal resonances steer the forward rhythmic movement, while their quick-witted banter provides a necessary fulcrum for the open improvisations. It's no surprise, then, that the fine balance of voices within ABACUS has resulted in the fine balance of composition and improvisation on Abacus.

Bill Shoemaker Jazz Review Magazine October 2001
---
John Law Quartet Abacus hatOLOGY 567 1.5.2000
John Law, piano; Jon Lloyd, alto/soprano; Tim Wells, bass; Gerry Hemingway, drums.

Classically trained pianist, John Law took a shining to jazz while in his 20's and eventually teamed up with some of Europe's best and brightest free jazz artisans yet subsequently decided to tone matters down a bit. Here, Law aligns with American drummer/composer Gerry Hemingway for a spirited set also featuring Law's longtime associates, saxophonist Jon Lloyd and bassist Tim Wells.
Marked by the leader's linear lines, spaciously perpetuated statements and limber left-hand, right-hand coordination, the quartet pursues peppery rhythms and a festive atmosphere on the opener, "Ouverture". However, the ensemble frequently melds austere overtones with booming patterns and reverberent rhythms, whereas Hemingway often alters the flow via his crisply executed rim-shots and polyrhythmic fills amid Law's lower register comping and fluent soloing. Throughout, the pianist performs with the grace and ebullience of a well-travelled concert pianist, yet Law also injects cascading chord progressions, idiosyncratic phraseology and harmonically rich themes into pieces such as "Courante" and the quaintly rendered "Burlesque".
The musicians rekindle fond memories of Keith Jarrett's work with saxophonist Dewey Redman, during the nine minute opus titled "Gigue" as they keenly utilize space and depth alongside animated choruses and asymmetrical currents. Thus, listening to this fine new recording signifies time well spent! Recommended.

Glenn Astarita All About Jazz Magazine September 2001
---
John Law Quartet Abacus hatOLOGY 567 1.5.2000
John Law, piano; Jon Lloyd, alto/soprano; Tim Wells, bass; Gerry Hemingway, drums.

Voilà l'un des rares pianistes européens, dotés d'un réel univers musical. Nous avions déjà salué en quelques chroniques, dans ces colonnes la créativité du Britannigue. Avec Abacus. Il livre l'une de ses oeuvres les plus ambitieuses, dans la forme (une suite d'inspiration baroque pour saxophone, piano, contrebasse et batterie) et abouties dans la réalisation. Concilier la rigeur de Jean-Sebastien Bach et la vigeur de Cecil Taylor, le sens mélodique de Keith Jarrett des quartettes ("Sarabande") et la cambrure de l'écriture d'Anthony Braxton pour le même format ("Burlesque") - toutes influences citées par John Law - était tout sauf évident. La fougue de Jon Lloyd aux saxophones alto et soprano, la fantaisie de Gerry Hemingway à la batterie et la complicité établie du contrebassiste Tim Wells sont de superbes atouts. Ce quartette annihile toute tentative exogène et tire au contraire la musique de John Law en plein centre du jazz: le jeu collectif, le son collectif, la jubilation spontanée.

Alex Dutilh Jazzman Magazine November 2001
---
John Law Quartet Abacus hatOLOGY 567 1.5.2000
John Law, piano; Jon Lloyd, alto/soprano; Tim Wells, bass; Gerry Hemingway, drums.

I've been a fan of John Law's since the series of albums he made in the mid 90's for Future Music Records. Giant Leaves (Autumn Steps) with Paul Clarvis (drums) and Tim Wells (bass) was particularly fine. The trio operated live with such a degree of empathy that the mind ran to (at times, too hastily) comparisons with the Jarrett Standards Trio and even the Bill Evans trio with La Faro and Motian. But they were definitely very, very good.
Abacus finds Law still in the company of Wells but with Gerry Hemingway in place of Clarvis. Old sparring partner, Jon Lloyd, joins on alto and soprano. Wells is on particularly good form. He's one of those bass players who can anchor complex music and yet allow it to breathe. He takes a lovely, soulful solo on Sarabande" (dedicated to John Stevens) but his playing on "Gigue" and the stuttering rhythms of "Burlesque" is just as striking. Hemingway is one of the best drummers for music that slips and slides between free form and more obviously structured styles. Those years with Braxton must make this seem a bit like a vacation - but who knows what some people do for fun! Lloyd had always struck me as a rather astringent and austere player but here he's very much part of the ensemble. His alto dances over the rhythm section on "Gigue", just as his soprano cries softly on "Aria". He's actually a much more versatile musician than I'd credited and his tone on both instruments is warm and generous.
As for Law himself, his weakness in the past as a composer and performer has been a tendency to emphasise the clever over the more visceral aspects of this music. A reaction, perhaps, to too much exposure to blowing sessions in his early days on the scene. The balance is right here. These attractive tunes are clever but they're also attractive and memorable and in his playing the emphasis is on taste not waste. You may not anticipate what he's going to play but each time it's right on the money.
For those unsure about a foray into HatArt territory, anyone with an affection for mid-60's post-bop or Coltrane, or Coleman or 'Time-no-changes' Miles should enjoy this. For shame on you, if it passes you by.

Duncan Heining Jazzwise Magazine November 2001